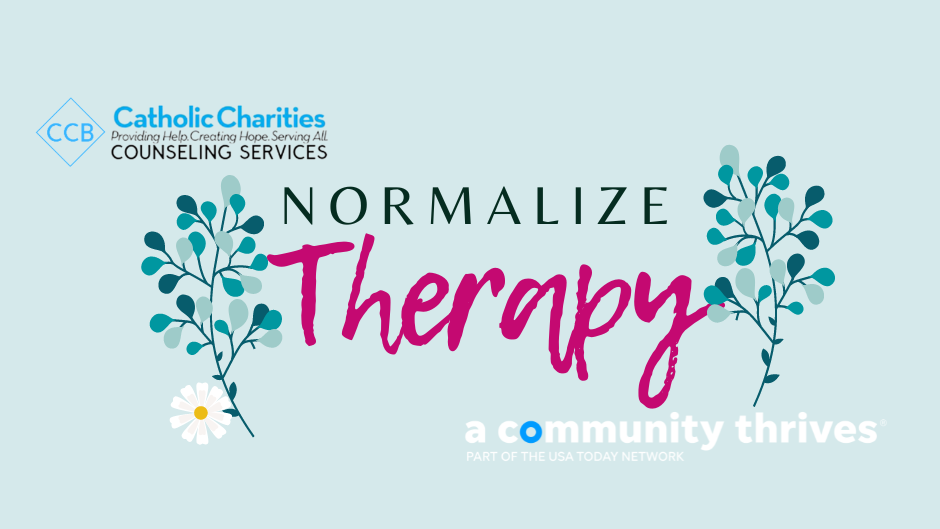 Donate to #NormalizeTherapy and hire two therapists to join our team and help our community thrive!
$280
raised by 5 people
$6,000 goal
We need more therapists to provide mental health counseling in our community. 
CLICK DONATE ABOVE TO HELP OUR COMMUNITY THRIVE!
Follow these simple steps to help us spread the word! 
1. Right click on your favorite image below & "Save As" to post to your personal facebook page  
2. Copy & paste or customize a message to your post to show your support to Catholic Charities Bloomington.
COPY/PASTE:
Help advocate for mental health, destigmatize seeking counseling, and #NORMALIZETHERAPY You can help our community thrive by normalizing therapy and expanding CCB's capacity to heal trauma by hiring two therapists to provide quality mental health counseling in Bloomington, Indiana, and surrounding counties. Give during A Community Thrives Campaign fundraising window from July 18, 2022 at 12 ET-August 12,2022 9 pm ET by clicking HERE and Catholic Charities will be eligible to receive a grant of up to $100,000!

3. BONUS: If you want, in your post tell us why you support mental health, what therapy means to you, or how counseling has helped you or a loved one heal and thrive.  In 2020, around 41.4 million adults in the United States received treatment or counseling for their mental health. Chances are therapy has helped you or someone you know!
Money raised between July 18th and August 12th will go towards our goal of $6,000 and make us eligible to receive a grant from the Gannett Foundation of $100,000. Funding like this will allow us to hire two clinically trained mental health therapists and help up to 140 community members within their first year!
THANK YOU! Even a $10 donation will make a substantial impact in mental health!  
---