Manchester Riverwalk was chosen by media giant Gannett to participate in a month-long crowdfunding program that invests in community building initiatives nationwide. By raising a minimum of $3000, we become eligible for potentially $100,000 in grant funds. Our end goal is the build a pedestrian bridge in the heart of Manchester, Vermont, spanning the BattenKill, the river that winds through town.
The Manchester Riverwalk Association was formed in 2013 after a community forum orchestrated by the Vermont Council on Rural Development. But even before we officially formed, we were working hard to clean up and restore the small valley formed by the West Branch of the BattenKill. Invasive plants have been replaced with native plantings. We have created and placed interpretive signs telling of the history of the area.
Now it has come time to build The Riverwalk Community Bridge, connecting the Factory Point Town Green with the Main Street Historic District. This pedestrian bridge will span 110 feet to the other side of the BattenKill.
All donations must be made through this website to count towards our goal. The campaign begins September 21 and ends on October 16, 2020. Please consider donating within that time period by using the red "Donate" button.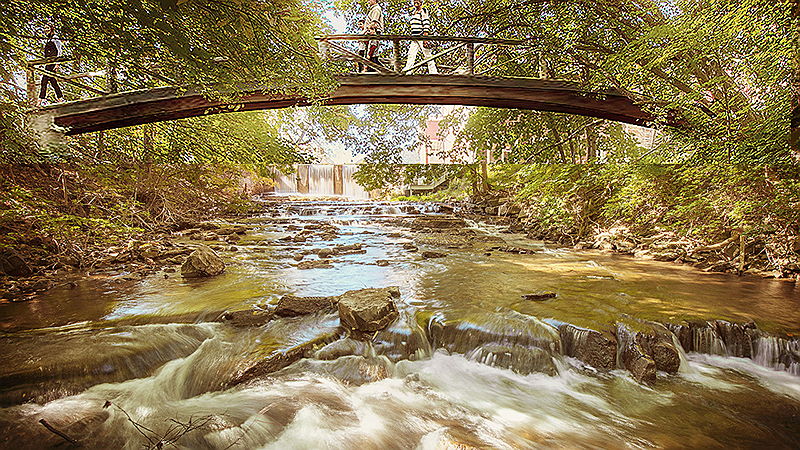 The above photo is an artistic rendering simulating what a bridge might look like there.
The Manchester Riverwalk Association is a non-profit organization with a mission to build, beautify, and maintain public pathways along the BattenKill in Manchester, Vermont thereby enhancing vibrancy in the community, while creating a compelling recreational and cultural destination.