DONATIONS MADE BETWEEN SEPT. 21 AND OCT. 16 WILL COUNT TOWARD MEETING THE GOAL AND BEING ELIGIBLE FOR MORE GRANTS.
Mission: Diaper Depot at Central (DD@C) is a mission of Central Presbyterian Church in Chambersburg, PA., providing disposable diapers for babies and toddlers whose families are struggling to meet this very basic need. Families are served regardless of race, religion or ethnicity. Families can register one or two children by showing birth certificates, and will receive 50 diapers or 15 training pants per child per month. DD@C is usually held on the third Saturday of the month from 10 AM until noon at Central Presbyterian Church, on the square in Chambersburg, PA. Families are welcomed at the Lincoln Way West door.
History: In June, 2015 the first Diaper Depot at Central was held using funding from Central Presbyterian Church and many generous individuals. Forty-four families received diapers and a hot breakfast at that event. Five years later, DD@C has a monthly event, usually the third Saturday, and averages 187 families including 269 children.
Why does DD@C distribute diapers?

In the U.S. one of three families with children in diapers cannot afford this basic need.
Monies received from SNAP or WIC cannot be used to purchase diapers.
To attend child care, families must provide a sufficient supply of disposable diapers for the child. If a family cannot afford the diapers then parents will have to find alternate placement for the child or not be able to attend school or work.
Without a sufficient supply of diapers, parents may be tempted to leave a child in a dirty diaper. Children left in diapers too long are not comfortable or happy and will contribute to the stress in a household.
Diapers are an expensive necessity when raising children. Some may believe cloth diapers to be the solution, but the upfront cost is high and many families do not have personal laundry facilities which are needed since many public facilities do not permit the washing of diapers.
Services: Families attending DD@C get much more than diapers. Everyone is offered an all-you-can-eat breakfast; fresh in-season produce provided by The Gleaning Project which is part of SCAAP; fresh free-range eggs thanks to Pete and Gerry's Eggs in Greencastle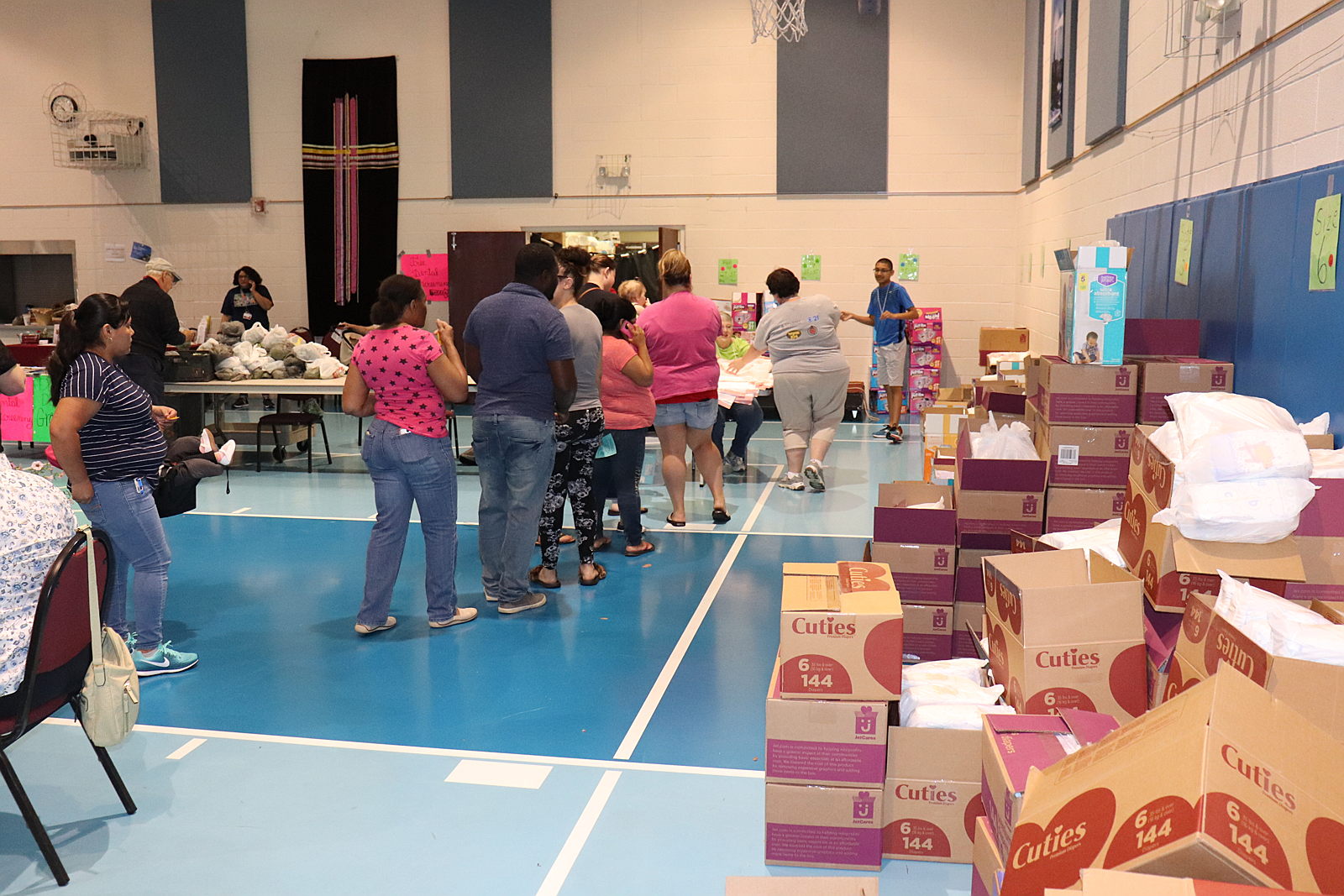 Parents waiting to get diapers; donated children's clothing, books, and toys; dental checks by a local dentist; child care; and health information from Keystone Medicine. All is provided free of charge. In this time of pandemic, DD@C is only distributing diapers, produce, and eggs.
---
One parent commented, "The service offered by the Diaper Depot is crucial to many families. I am so thankful for the things I have received while attending their monthly offerings. I enjoy talking to people there, having breakfast, and just seeing how the church helps the community. Thanks you so much."
---
Volunteers: Diaper Depot is a volunteer mission. Volunteers come from many sources including honor society students from the local high schools. These students are invaluable as they help with all aspects of the distribution and also translate for the families. About 40% of the families do not identify English as their first language.
Anyone is welcome to volunteer to help at DD@C. On the Wednesday before the distribution event, diapers are re-packaged into bags containing 50 diapers or 15 training pants. On the Saturday of the event, between 40 and 50 volunteers are needed to successfully distribute diapers and provide other services. Volunteers will often comment enjoying the experience and will return for future events. Feel free to come and check out DD@C. The future dates are posted on our Facebook page, Diaper Depot at Central.
Finances: DD@C pays between $2200 and $3000 per month on diapers and training pants. Food is purchased for about $200 each month. The only other cost is $100 per month for computer support of data. All grant and contributed money pays for one of these items. DD@C has no paid employees. At this time each dollar of your gift will purchase 4 - 7 diapers depending on the size. As should be mentioned, cost per month will increase with more families or increase in diaper costs.
What to see at DD@C: Within the gym at Central, families of all colors, ages, and languages can be seen checking in and visiting with someone at registration, picking up diapers, being offered fresh produce, and being served a hot breakfast. Children are cared for and fed breakfast while parents are able to have an adult conversation or peruse donations for needed items. It is common to hear the laughter of children and see many smiling faces. What a joy it is to see young babies and their proud parents.
Donate to help DD@C to continue this mission helping the most vulnerable in the community.
Thank you!